Home Page >>
Carpet Cleaning Chemicals
>>
Deodourisers
>> E247-05 -discontinued
E247-05 -discontinued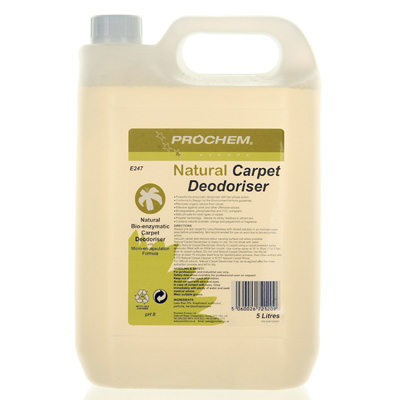 Environmentally friendly, biodegradable, phosphate free and VOC compliant
Effective against urine and other offensive odours
For use on carpets and rugs - not recommended on wool due to bio-enzymatic action
Clear liquid with natural lavender, orange and peppermint fragrance.
Ready to use formula - pH8
| | | | |
| --- | --- | --- | --- |
| JMS ID: | 0209 | Web ID: | 11352 |
| Pack Size: | 2 x 5 litre bottles | Weight (kg): | 1 |
| Model Number: | Prochem - Natural Carpet Deodoriser | | |
Contains encapsulation technology to prevent sticky residues
Prochem Natural Carpet Deodoriser is a powerful biological deodoriser for carpets that contains no biocides. Based on natural biological cultures that digest organic odours in carpets. Effective against urine and other offensive odours.
Contains encapsulation technology to prevent sticky residues.
Spray directly onto odour contaminated carpet, then rinse with Natural Carpet Cleaner or Natural Carpet Rinse.
Clear liquid with natural lavender, orange and peppermint fragrance.
Ready-to-use pH 8
NOT RECOMMENDED for use on wool due to bio-enzymatic action.
5 litre container of ready to use formula for use through a pressure spray. This product is also available in 1 litre quantities in a spray container.

Prochem Natural products are free of dyes, synthetic fragrances, EDTA and NTA and contain only ingredients considered safe for the environment.Containers are made from recyclable natural polyethylene and outer cartons use recycled fibreboard.
Best Sellers