Home Page >>
Washroom Chemicals
>>
Disinfectants
>> Selden Selsan Disinfectant
Selden Selsan Disinfectant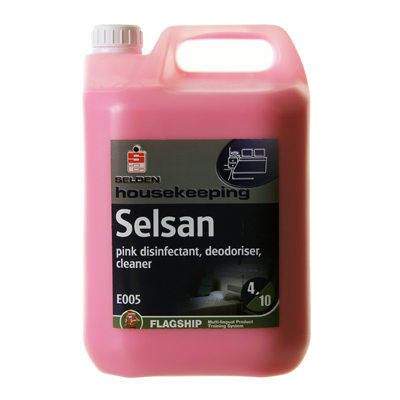 Disinfectant, deodoriser and cleaner - easy to use
Suitable for cleaning floors, walls, drains, toilets
Opaque, pink emulsion with a pine fragrance
Dilute up to 1:60
pH 8
| | | | |
| --- | --- | --- | --- |
| JMS ID: | 1224 | Web ID: | 11400 |
| Pack Size: | 1 x 5 litres | Weight (kg): | 5.2 |
| Model Number: | E05 | Width (mm): | 0 |
| Height (mm): | 0 | Depth (mm): | 0 |
Pine fragranced disinfectant, deodoriser and cleaner - easy to use
Selden Selsan is a thick pink emulsion, easy to use, leaves a lasting pine freshness. Ideal for sick rooms and nursing homes, cleans, deodorises and freshens floor coverings and furnishings soiled by incontinent patients. Mild, kind to skin, will not affect paintwork, floors or fabrics. Suitable for use in animal dispensaries and wherever clean sanitary conditions are required. Effective against MRSA.
For use on floors, walls, drains, toilets, sick rooms, nursing homes, schools, hospitals and factories. Also suitable for cleaning and deodorising of all animal housing and veterinary premises.
Directions For cleaning, dilute 'Selsan' 1 part to 60 parts warm water. Use more concentrated as required to remove stubborn grease and stains.
Biodegradability All surfactants contained in Selden Products meet the requirements of the EU Detergent Directive 2005 - 2004/648/EC. This requires all surfactants to break down both quickly and completely into harmless material such as CO2 and water.
All biocides/disinfectant/preservatives contained within Selden products fully comply with the EU Biocidal product Directive 98/8/EC, ensuring a high level of protection for humans, animals and the environment.
Best Sellers