Home Page >>
Cloths, Dusters & Scourers
>>
Microfibre Cloths
>> Microfibre Cloth - Lightweight (Green) Pack of 10
Microfibre Cloth - Lightweight (Green) Pack of 10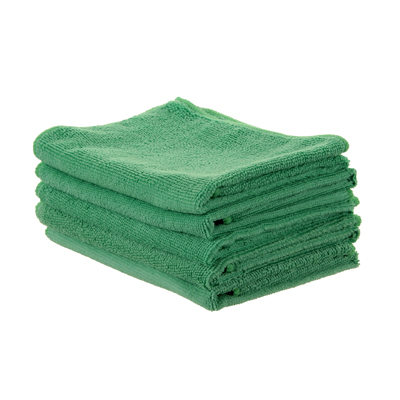 This cloth can be laundered
Recommended for cleaning environments including; kitchens, bathrooms, cars and window cleaning
Packed in 10's
Dirt, grease and soilage is lifted from the surface and stored within the cloth
Colour Coded Product
| | | | |
| --- | --- | --- | --- |
| JMS ID: | 7894 | Web ID: | 10550 |
| Pack Size: | 10 cloths | Weight (kg): | 0.4 |
| Model Number: | 992647 | Width (mm): | 0 |
| Height (mm): | 0 | Depth (mm): | 0 |
Modern non-scratch Microfibre cloth giving advanced, streak free cleaning.
The Microfibre cloth has become the most popular cleaning cloth for professional cleaners. Why? Microfibre produces a quick cleaning result with reduced or no cleaning chemical.
The cloth can be laundered over and over making it a far more economical than traditional stockinette or disposable synthetic cloths.
Due to the non-scratch properties of microfibre it can be used on any surface and in a vast number of cleaning environments including; kitchens, bathrooms, cars and window cleaning. The cloth can also soak upto eight times its own weight in moisture making it ideal for drying or soaking up spills.
The synthetic make-up of the product creates natural static cling vastly improving the cleaning action of the product, reducing the need for harsh chemicals. Dirt, grease and soilage is lifted from the surface and stored within the cloth rather than just moving dirt from one surface to another. When the cloth is washed out in medium hot water it will release the dirt, soilage and any grease residues.
These cloths are available in two weights and four base colours. This allows you use a specific colour for an area or task reducing cross contamination of bacteria.
Best Sellers