Home Page >>
Environmentally Friendly Chemicals
>>
Washroom Chemicals
>> ECOFLOWER WASHROOM CLEANER TRIGGER
ECOFLOWER WASHROOM CLEANER TRIGGER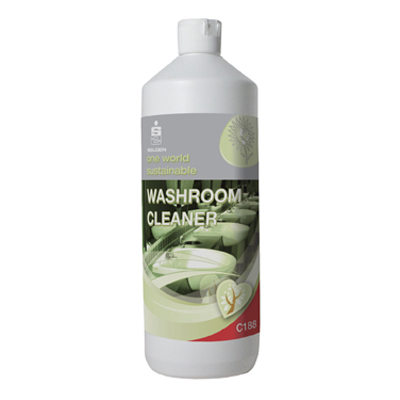 Eco-friendly formulation - contains natural citric acid to remove limescale
Cleans and freshens all washroom surfaces
Clear, light green, thin liquid with a floral fragrance
Ready to use formula contained in 1 litre trigger spray(also available in 5 litre container)
pH 3
| | | | |
| --- | --- | --- | --- |
| JMS ID: | 0141 | Web ID: | 11360 |
| Pack Size: | 12X1LTR | Weight (kg): | 0.1 |
| Model Number: | C188 | | |
Contains natural citric acid to remove lime scale
Selden Ecoflower Washroom Cleaner cleans and freshens all washroom surfaces. Contains natural citric acid to remove lime scale. Eco-friendly formulation
For the regular cleaning of ceramics, painted surfaces, stainless steel, floors, all non-porous surfaces in hotels, sports complexes, conference centres, institutions etc. Use throughout the washroom on washbasins, mirrors and stainless steel urinals.
Directions: For regular cleaning dilute with 40 parts warm or cold water and use with a mop or cloth. Can be used neat for neat for body fat and limescale removal in baths, showers, sinks and taps. Simply wipe or brush on and rinse off. Proper dosage saves costs and minimises environmental impacts.

Biodegradability: All surfactants contained in Selden Products meet the requirements of the EU Detergent Directive 2005 – 2004/648/EC. This requires all surfactants to break down both quickly and completely into harmless material such as CO2 and water.
Best Sellers