Home Page >>
Washroom Chemicals
>>
Washroom Surface
>> SELDEN SELACTIVE
SELDEN SELACTIVE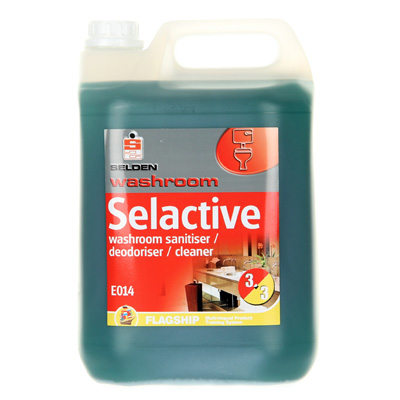 Removes limescale and kills odour producing bacteria
Cleans and sanitises all surfaces including:ceramics,painted surfaces,stainless steel, floors and al
Clear, green liquid with a fresh lime fragrance
Dilute up to 1:40
pH 3.7
| | | | |
| --- | --- | --- | --- |
| JMS ID: | 1747 | Web ID: | 11387 |
| Pack Size: | 5 LTR | Weight (kg): | 0.1 |
| Model Number: | E 14 | | |
Selden Selactive is for use throughout the washroom on washbasins, mirrors and stainless steel urinals
Selden Selactive is for use throughout the washroom on washbasins, mirrors and stainless steel urinals. Suitable for poolside cleaning. For the regular cleaning of ceramics, painted surfaces, stainless steel, floors, all non-porous surfaces in hotels, sports complexes, conference centres, institutions etc.
Cleans and sanitises all surfaces. Removes lime scale. Kills odour producing bacteria. Leaves a fresh fragrant atmosphere. Independently tested to BS6471 QAP50.
Directions Dilute SELACTIVE 1 part to 40 parts warm or cold water for cleaning walls, floors, worktops etc. Use neat for limescale removal on toilets, urinals and poolsides. Brush and rinse off. Apply SELACTIVE to cleaning cloth and wipe away scale and body fats in showers and sinks, then rinse off with water.
Biodegradability All surfactants contained in Selden Products meet the requirements of the EU Detergent Directive 2005 - 2004/648/EC. This requires all surfactants to break down both quickly and completely into harmless material such as CO2 and water.
All biocides/disinfectant/preservatives contained within Selden products fully comply with the EU Biocidal product Directive 98/8/EC, ensuring a high level of protection for humans, animals and the environment.
5 litre container of neat product for dilution as necessary(also available in 1 litre ready-to-use
Best Sellers