Home Page >>
Carpet Cleaning Chemicals
>>
Problem Solvers & Additives
>> Insectiside Liquid 5L
Insectiside Liquid 5L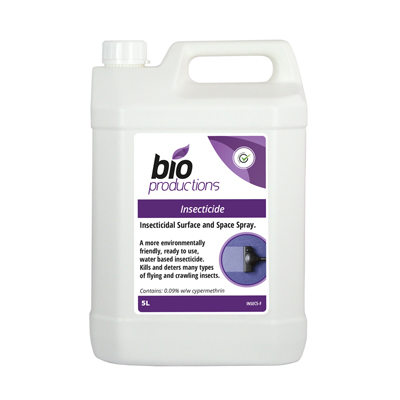 The insecticide is an ideal treatment for the eradication of infestations and control of all crawlin
does not present a health risk to pets or young children who may come into contact with treated surf
Stapro Insecticide remains active after application for at least 14 days
Not suitable for use on grain, or in grain stores
| | | | |
| --- | --- | --- | --- |
| JMS ID: | 2299 | Web ID: | 5648 |
| Pack Size: | 1 x 5 Litre | Weight (kg): | 5.2 |
| Model Number: | INSECTICDE5 | | |
An environmentally friendly, HSE (No: 9067) approved insecticide for use on carpets
An environmentally friendly, HSE (No: 9067) approved insecticide for use on carpets,upholstery fabrics and hard surfaces - simply spray on and leave to dry naturally.
The insecticide is an ideal treatment for the eradication of infestations and control of all crawling and flying insects including fleas and it does not present a health risk to pets or young children who may come into contact with treated surfaces or fabrics.
Ready-to use and suitable for the treatment of infestations in all porous and non-porous surfaces, soft furnishings, carpets and upholstery, roof voids and food handling areas. Stapro Insecticide remains active after application for at least 14 days, eradicating insects emerging from eggs. Not suitable for use on grain, or in grain stores,
or for treating clothing. Space applications, apply 4ml per m2 Surface treatment apply 20ml per m2.
Best Sellers